Phi Kappa Psi to celebrate Constitution Day
Phi Kappa Psi will celebrate its annual Constitution Day on Thursday, September 17, 2020 celebrating the Phi Kappa Psi Constitution that was adapted in 1886. 
Prior to the 1886 Grand Arch Council (GAC), Phi Kappa Psi was governed by a Grand Chapter. In this form of government, a single chapter was responsible for the decisions of the entire Fraternity. At the 1886 GAC, Phi Kappa Psi decided to vacate the Grand Chapter form of government that served the Fraternity since its founding in 1852. The new Constitution, which provided the framework that still governs Phi Psi today, was authored by Brother William Clayton Wilson Allegheny 1875. Rather than an undergraduate chapter governing the entire Fraternity, it was decided that a small group of alumni and undergraduates would be elected to serve as representatives of the Fraternity as a whole. 
Brother Wilson's birthday, coincidentally, is September 17th, which is now recognized as the United States' Constitution Day. In 2002, Phi Kappa Psi proclaimed September 17th to be a day of recognition in the Fraternity to honor our country and the brothers who laid the foundation of our current governing system.  
Ways to join the Constitution Day celebration:
Wear your badge or letters
Fly your Phi Psi flag
Follow and tag @phikappapsi on Instagram and share your photos using #PhiPsi and #PhiKappaPsi
Download a Phi Psi Zoom background to use on your next call.
Deselect "mirror my video" under video settings in Zoom to ensure images display correctly.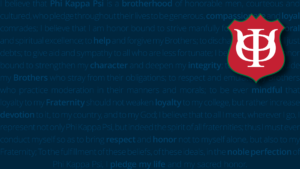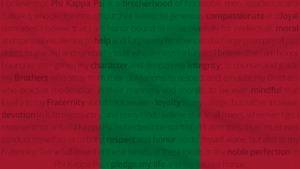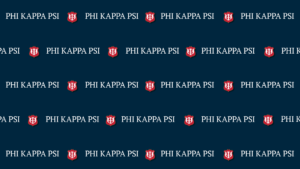 ### 
Phi Kappa Psi Fraternity is a 501(c)(7) association of men of integrity who strive to develop the individual in his intellect, involvement in the community and faith. The Fraternity was founded Feb. 19, 1852 at Jefferson College by William Henry Letterman and Charles Page Thomas Moore. The Fraternity currently has more than 100 chapters across the United States, 6,500 undergraduate members and 80,000 living alumni.