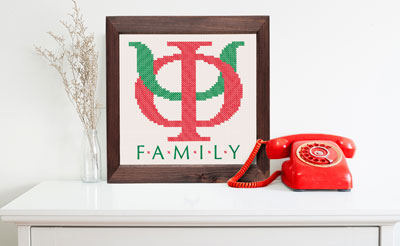 Our Phi Psi Family Members contribute to our organization in a number of important ways. This page is designed to recognize the accomplishments in their personal and professional lives. To submit Phi Psi Family Accomplishments and be added to this list, complete this form.
Byron Hughes | Lead Facilitator
Melissa Kish | Organizer
Zak Gosa-Lewis | FIU
Abby McCollom | FIU
Erin McHale | TCU
Mat Greer | Session 1
Drew Kerwood | Session 1
DJ Mahoney | Session 1
Ben Turconi | Session 1
Brandon Younkin | Session 1
Kristen Kardas | Session 1
Emilie Dye | Lead Facilitator
Mary Young | Session 1
Zachary Littrell | Session 2
Matthew Lumpp | Session 2
Zana Morris | Session 2
Ryan Miller | Session 2
Morgan Brickley | Session 3
Craig Shook | Session 3
Sara Diem | Session 3
Sean Ryan | Session 3
Jakes Bates | Session 3
Monica McGee | Lead Facilitator
Katie Barber | Session 4
Tara Fuller | Session 4
Tyler Havens | Session 5
Kathleen Tucker | Session 5
Steven Crudele | Session 6
Lindsay Wright | Session 6
Nikki Rowlet | Session 6
Jackie Gardner | Session 6
Eli Argueta | Session 7
Travis Roberts | Session 7
Christina Witkowicki | Lead Facilitator
Robert Marias | Session 7
Erin Chatten | Session 7
Hannah Cotton | Session 7
Aly Ruhl | Session 7
Desiree Paulhamus | Session 8
Caitlin Parker | Session 8
Highlighted Accomplishments
Devin Berghorst: Writer for AFA's Perspectives Magazine, "Providing Language to Crisis Response and Crisis Management in Fraternity and Sorority Life".
Drew Hopson: Selected to facilitate Alpha Xi Delta's Founders Academy.
Kate Morales: Will be marrying Aaron Reistad, whom she met in the Higher Education Masters Program  at Florida State University. Currently living in Columbus, Ohio. Aaron works in Student Conduct at the Ohio State University, and Kate works at the Delta Gamma Foundation. She will also be facilitating AFLV LeaderShape at UCLA in August.
Kollin Fitzpatrick: Successfully passed  his comprehensive exam with the highest score in the cohort while pursuing his Master's of Education, which he will receive in 3 weeks. Also will facilitate FIJI's national leadership institute in May.
Lauren Krznarich: Received the 2018 Outstanding Professional Staff award from the School of Public and Environmental Affairs at Indiana University Bloomington. Award is given to honor those who demonstrate a positive attitude toward the school and their position, exemplary job performance, and a special effort toward improving SPEA.
Lynn Gold: Married fellow Phi Psi family member Brett Meadors on April 14, 2018 in Las Vegas.
Robert Marias:  Robert received the Advisor of the Year Award at Marietta college after only his first full year on campus.
Steven Crudele: Will transition into a new role at American University as an American University Experience instructor and advisor, in which he will facilitate students in adjusting to their new college environment as well as educate them about AU's core curriculum.
Tom DiRoma: Hired in January as the Assistant Director for Fraternity and Sorority Life at The University of North Carolina at Greensboro. Was published in AFA's Essentials E-Newsletter on the topic of developing alumni advisory boards for local fraternities and sororities. 
Troy Jaster: Recognized in April 2018 by the San Antonio Business Journal as the #44 ranked residential real estate team in San Antonio.
Sign Up for the Phi Kappa Psi Newsletter