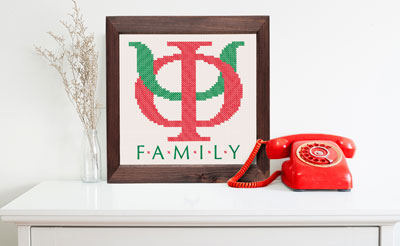 Our Phi Psi Family Members contribute to our organization in a number of important ways. This page is designed to recognize the accomplishments in their personal and professional lives. To submit Phi Psi Family Accomplishments and be added to this list, complete this form.
Byron Hughes | Lead Facilitator
Melissa Kish | Organizer
Zak Gosa-Lewis | FIU
Abby McCollom | FIU
Erin McHale | TCU
Mat Greer | Session 1
Drew Kerwood | Session 1
DJ Mahoney | Session 1
Ben Turconi | Session 1
Brandon Younkin | Session 1
Kristen Kardas | Session 1
Emilie Dye | Lead Facilitator
Mary Young | Session 1
Zachary Littrell | Session 2
Matthew Lumpp | Session 2
Zana Morris | Session 2
Ryan Miller | Session 2
Morgan Brickley | Session 3
Craig Shook | Session 3
Sara Diem | Session 3
Sean Ryan | Session 3
Jakes Bates | Session 3
Monica McGee | Lead Facilitator
Katie Barber | Session 4
Tara Fuller | Session 4
Tyler Havens | Session 5
Kathleen Tucker | Session 5
Steven Crudele | Session 6
Lindsay Wright | Session 6
Nikki Rowlet | Session 6
Jackie Gardner | Session 6
Eli Argueta | Session 7
Travis Roberts | Session 7
Christina Witkowicki | Lead Facilitator
Robert Marias | Session 7
Erin Chatten | Session 7
Hannah Cotton | Session 7
Aly Ruhl | Session 7
Desiree Paulhamus | Session 8
Caitlin Parker | Session 8
Highlighted Accomplishments
Jake Bates (Phi Kappa Sigma): Started a new role of Program Manager for Greek Life at Lindenwood University in St. Charles, MO.
Trelynd Bowles (UC Riverside '16): Trelynd completed the Executive Fellowship Program in the Office of the Governor for the State of California. Upon completion, Trelynd received a Graduate Certificate in Applied Policy and Government and was appointed by Governor Edmund G. Brown as the Policy Analyst for the Governor's Office of Planning and Research where he manages a multitude of projects and policy areas.
Maureen Fillmore (Gamma Phi Beta): Her family welcomed their third child on Halloween 2018 – Londyn Marie!
Paul Habernig (Oneonta '04): As of December 1, 2018 Paul was promoted to Director of Community and Student Engagement. With the focus of improving the relationship and engagement with the city of Oneonta, he is challenged to increase engagement opportunities both on campus and off campus. In addition to Programming Board, Fraternity and Sorority Life, he will be oversee Commuter Life, Involvement and Volunterism and Community Engagement.
Jackie Hackett (Sigma Sigma Sigma): Took on a new professional role as the Assistant Director of Education and Leadership Development at the North-American Interfraternity Conference.
Ivonne Ramirez (Phi Mu) Received a national award given by NASPA Student Leadership Knowledge Community for Outstanding Commitment to Leadership Programs.
Tim Ressmeyer (Valparaiso '79) Published his Leadership Book, The Impact of Confidence: 7 Secrets of Success for the Human Side of Leadership this past Fall. Learn more about it here. He also operates a Leadership Coaching practice based in Chicago, and serves clients globally.
Craig Shook (Case Western '11): Order of Omega Master's Fellowship Order of Omega Case Study Competition, Third Place Crisis Intervention at the AFA Annual Meeting