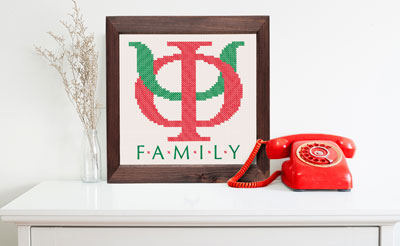 Our Phi Psi Family Members contribute to our organization in a number of important ways. This page is designed to recognize the accomplishments in their personal and professional lives. To submit Phi Psi Family Accomplishments and be added to this list, complete this form.
Byron Hughes | Lead Facilitator
Melissa Kish | Organizer
Zak Gosa-Lewis | FIU
Abby McCollom | FIU
Erin McHale | TCU
Mat Greer | Session 1
Drew Kerwood | Session 1
DJ Mahoney | Session 1
Ben Turconi | Session 1
Brandon Younkin | Session 1
Kristen Kardas | Session 1
Emilie Dye | Lead Facilitator
Mary Young | Session 1
Zachary Littrell | Session 2
Matthew Lumpp | Session 2
Zana Morris | Session 2
Ryan Miller | Session 2
Morgan Brickley | Session 3
Craig Shook | Session 3
Sara Diem | Session 3
Sean Ryan | Session 3
Jakes Bates | Session 3
Monica McGee | Lead Facilitator
Katie Barber | Session 4
Tara Fuller | Session 4
Tyler Havens | Session 5
Kathleen Tucker | Session 5
Steven Crudele | Session 6
Lindsay Wright | Session 6
Nikki Rowlet | Session 6
Jackie Gardner | Session 6
Eli Argueta | Session 7
Travis Roberts | Session 7
Christina Witkowicki | Lead Facilitator
Robert Marias | Session 7
Erin Chatten | Session 7
Hannah Cotton | Session 7
Aly Ruhl | Session 7
Desiree Paulhamus | Session 8
Caitlin Parker | Session 8
Highlighted Accomplishments
Billy Boulden (Pi Kappa Phi): Won Fraternity/Sorority Advisor of the Year from Beta Theta Pi at their Annual Convention.
Bob Marchesani (Butler '79/IUP '94): Recently elected National Vice President of Phi Kappa Psi. Also joined Butler University's Lacy School of Business as an affiliate faculty member and Executive Mentor. He will be the co-instructor of the Butler MBA Program Capstone Class , as well as serving as an Executive Mentor to Lacy School of Business students to advise them on career development and professionalism.
Carson Lance (Phi Gamma Delta): Started new role as Associate Director of Fraternity and Sorority Life at the University of Denver.
Dale TeGantvoort (Huntsville '14): Graduated in May 2018 with his Bachelor's degree in Marketing, allowing him to secure a full-time position as an Admissions Counselor at The University of Alabama in Huntsville.
Deb Padgett (Alpha Gamma Delta): Selected to serve as a Master Facilitator for Alpha Sigma Tau and their Illuminate program. She is also serving with Alpha Gamma Delta as an ASTP Facilitator.
Drew Hopson (DePaul '10): Became the Director of Chapter Services for Triangle Fraternity. Facilitated at Triangle Fraternity's Herb Scobie Leadership School. Facilitated at Sigma Alpha Epsilon Fraternity's John O. Moseley Leadership School.
Erin McHale (Gamma Phi Beta): Won Fraternity/Sorority Advisor of the Year from Beta Theta Pi at their Annual Convention.
Fran Becque: Facilitated at the Pi Beta Phi Leadership Institute this summer. "We Who Are Sisters: 150 History of the P.E.O. Sisterhood" will makes it debut in January 2019, on the anniversary of P.E.O.'s founding. She is one of the four authors.
Ivonne Ramirez (Phi Mu): Won the Trailblazer's Award from the President's Office at Mount Holyoke College. The Trailblazer Award is given to "individuals or teams who have completed a project, or met a challenge head-on, and, through their collaboration and creativity, have advanced the College's mission and incorporated our shared values into their work."
Jason Feiner (Delta Tau Delta): Facilitated his fifth Ignite session with his fraternity Delta Tau Delta.
Jerrod Foster (IUP '08): Got married on August 11th, 2018. Started a new job with Securitas Ab, which is a $8 Billion private security firm, where he's in charge of the Armed Divisions in Pittsburgh and Uniontown.
Jessica Ryan (Sigma Delta Tau): Awarded Sigma Delta Tau's Sisterhood Service Award at the 2018 National Convention for outstanding service in volunteer roles on National Council.
Justin Smith (Texas '06): Took a new role at Argo Ventures, a venture fund based in NYC focused on fintech startups at the Seed, Series A, and Series B stages.
Kollin Fitzpatrick (Pi Kappa Alpha): Facilitated FIJI's Leadership Institute in May, and just completed his first month as the new Assistant Director of Greek Life at Ball State University.
Marc Dumas (DePaul '93): Awarded the 2017-2018 DePaul Fraternity and Sorority Life Chapter Advisor of the Year.
Marc Robins (Alabama '84): Received the Chapter Advisor of the Year award at Phi Kappa Psi's Grand Arch Council.
Marilyn Russell (Zeta Tau Alpha): Selected to be an NPC Area Advisor, working with TAMU Kingsville, Corpus Christi, and Commerce communities.
Mark Gehrke (Delta Upsilon): Received the 2018 Chairman's Award: Outstanding Alumni Volunteer from Delta Upsilon Fraternity at their Leadership Institute.
Molly Bennett (Alpha Omicron Pi): Graduated from Oklahoma State University with a Masters in Educational Leadership Studies with an emphasis in College Student Development. Awarded with the Higher Education and Student Affairs.
Morgan Brickley (Delta Zeta): Took on a new role as Director of Chapter Services for Delta Zeta Sorority. She will also be facilitating a leadership development session for the DeKalb Leadership Academy on September 12, 2018.
Morgan Sriphong-Ngarm (Delta Gamma): Married her high school sweetheart on May 27th. She also received her Master's in Higher Education Student Affairs and moved to Utah to start a career as an academic advisor in Mechanical Engineering at the University of Utah.