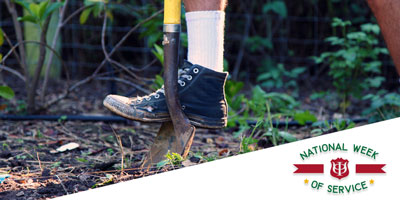 National Day of Service is now the National Week of Service, allowing flexibility for brothers to give back to their community. Share The Great Joy of Serving Others the week of April 8 through April 15. The value of service is fundamental to the Phi Psi experience for all brothers. Participating in the National Week of Service is an opportunity for your chapter, alumni association or alumni group to develop relationships with local service partners.
Each chapter and alumni association is expected to do a service project of some kind during this week. Undergraduate chapters should fill out the community service form in the accreditation submission form. Alumni associations are asked to share their projects via social media to share The Great Joy of Serving Others.
While service is something our members participate in every day, we highlight our organization's commitment to service each year with the National Week of Service. Brothers are encouraged to find a service project to participate in during the week.
10 Examples of Service Projects:
Phi Psi Field Day: Coordinate with a local Boys & Girls Club (or similar after-school program) to put on a field day event where kids of all ages get a chance to participate in various games, obstacle courses, interactive activities, etc.
Habitat for Humanity: Contact a local Habitat affiliate to assist in any housing projects in your area. This is a great way to be hands-on with community development.
Day at the Community Center: Work with your local community or senior citizen center to setup a visit and interact with the residents. Activities could include bingo, walks, cleaning, landscaping, etc.
ESL College Bound: If you have any members of your chapter who speak a second language, reach out to local high schools to see if they can assist high school students with college applications, college loan applications, or general school-related topics.
Children's Hospital Visit: Contact a local children's hospital and swing in to brighten the day of a child. You could coordinate a wide-scale community donation or fulfill another need of the hospital.
Park Clean-Up: Contact your local Parks and Rec and coordinate a park clean-up; consider inviting other organizations to join you.
Share the Skill: Work with your local community center to setup a class where you teach local folks a particular skill of yours (e.g. social media marketing, accounting, etc.)
Volunteer at an Animal Shelter: Who doesn't love cute animals? Stop by a local animal shelter and offer your support in terms of cleaning, feeding the animals, and taking them for walks.
Odd Jobs: Provide hands-on service to your University or College's faculty or staff. Examples include raking leaves, shoveling snow, organizing firewood, etc.
Special Olympics: Work with local high schools to setup a Special Olympics event on campus.
Sign Up for the Phi Kappa Psi Newsletter