National Mentoring Month
As January comes to a close, we want to celebrate the mentors in our lives that have guided us in times of happiness and of difficulty. January is National Mentoring Month and Phi Kappa Psi prides itself on the relationship's members are able to build to serve one another through mentorship and fellowship. Mentors, throughout our brotherhood, serve as not only career guides but also as figures who encourage and promote personal growth.
Research conducted by Mentoring.org states that young adults with mentors are 78% more likely to volunteer regularly and 130% more likely to hold leadership positions. The benefits of mentoring are endless according to the site, "For those who are being mentored,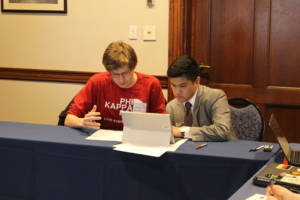 it is linked to improved academic, social and economic prospects. For those who are mentoring, the relationship can build leadership and management skills, expand a mentor's professional network, and provide an empowering opportunity to give back to the community."
Mentoring provides a meaningful connection of support and trust that benefits both the mentor and the mentee. In our own organization we can find many examples of mentoring relationships, including Douglas Stroup West Virginia '83.  Brother Stroup is the world's leading polar guide and polar expedition leader; he is also passionate about giving back to his community and the brotherhood.
"I am honored to be a brother of Phi Kappa Psi and have been mentoring several university students that expressed interest in the outdoor industry," said Stroup. "I have been involved with the outdoor industry for 30 years and have many strategic relationships that can not only help the brothers of Phi Kappa Psi find a dream job to accelerate them into a field that might be daunting. I have been working with Jesse Lanky West Virginia '17 for over two and a half years, and even during the COVID-19 pandemic we have been able to map out a strategy for him to own and operate his own expeditionary learning school in five years. I am open to working with more Phi Psi's to help them break into the industry."
Brothers like Doug embody the commitment to service and leadership that are the foundation of our brotherhood. Phi Kappa Psi hopes to nurture and encourage mentor relationships at every level within the organization. Take a moment today to thank your mentor or mentee for the impact that they have in your life.