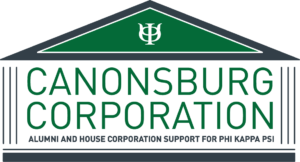 Who We Are
Canonsburg Corporation was established in 2005 as the national housing arm of Phi Kappa Psi Fraternity to provide housing support and resources to house corporations and chapters.
Our Mission
To help promote and maintain the safest, most affordable and comfortable housing options for all Phi Kappa Psi Fraternity chapters.
What We Do
Canonsburg Corporation offers a variety of services to local Phi Kappa Psi house corporations such as an IRS group tax exemption, educational resources and loans. Canonsburg Corporation stands ready to assist your house corporation with its next housing project and has funds ready to loan.
The Canonsburg Corporation offers the following loan programs:
Life Safety Loans – Sprinklers, fire-prevention systems, fire doors, extinguishers, etc.
Property Improvement Loans – Renovation projects, updates, etc.
Second Mortgage Loans – House refinancing or support in purchasing a property.
Line of Credit Loans – Bridge money to complete campaigns or start a project.
Security Deposit Loans – Seed money for a house corporation to rent a facility.
Board of Trustees
John J. Ziegelmeyer Kansas '70
Robert M. Kort Indiana '88
Brand A. Newland Iowa '00
Wynn "Wheels" Wiegand Missouri '74
James L. Miller Ohio State '85
Steve Nieslawski Illinois '79
John P. Henebry Southern Cal '84
Ben Lamson Southern Cal '86
Jeff Scott Oklahoma '11

Staff
Lee Fuller Ohio '09
Senior Director of Housing
Resource Library
The purpose of the resource library is to provide best practices, guidance and other assets to Phi Psi brothers and volunteers. All documents are samples only and should be reviewed by your legal counsel before using.
Contact Us
Interested in applying for a loan or have questions? Please contact the Canonsburg Corporation for your housing needs, questions, and concerns. The future of our chapter's rests in the hands of you, our local volunteers, and we want to help!
Please complete the form below to contact a member of the Canonsburg Corporation and someone will be in touch soon!