Phi Kappa Psi Mourns the Loss of Henry "Hank" B. Marvin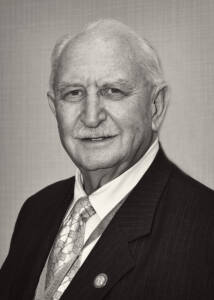 INDIANAPOLIS, IN — July 24, 2023 —It is with great sadness that we inform you of the passing of Foundation Emeritus Trustee, Henry B. Marvin Southern Cal '56. Despite his strong will and zeal for life, his health declined in recent years and unfortunately led to his passing on Friday, July 21, 2023. Hank was 85 years old.
As we mourn the loss of Brother Marvin, we remember his dedication and love for his family and community as well as our Fraternity and brotherhood.
"His generous and giving spirit, his service as a Trustee, his visionary fortitude, and his servant leadership will be deeply missed," said James Denny W&J '68, Foundation Chairman.
Hank was the CEO of the ISU Stephen B. Marvin Insurance Agency. He began with the agency post- graduation from the University of Southern California. In 1966 he became manager and then owner in 1974. Hank positioned the agency as a family and those they served as family as well.
Hank's more than two decades of service on the Board of Trustees (1996-2017) was marked by distinguished contributions to the brotherhood as a donor, volunteer, advisor, leader, and mentor evidenced by his most generous direct financial investments as well as his gift of insurability. Hank brought his years of experience as a decorated individual in the insurance and finance world, serving on numerous councils and boards, and extensive service to and knowledge of the Fraternity, to the Trustee position.
"He and his lifelong friend Brother Bruce McMahan were rock solid Foundation Trustees for years as well as frequently the leaders of post Trustee meeting social events," reminisced Donald Fites Valparaiso '53, Foundation Trustee.
In addition to his volunteer work with the Foundation, since 1990 Hank was heavily involved in supporting the Antelope Valley Hospital. He served as an elected director of the hospital from 1992 to 1997 and was chairman of the board in 1996. He also led the hospital's foundation from 1998 to 2000 and was acting treasurer from 2001 through 2008. His commitment to the community was also evident through his service as a director of a seven-branch community bank and his regular involvement with other area community organizations.
Hank's legacy will live on through the creation of the Marvin Laurel Hall Operating Endowment, established with a $2 million gift which is part of a larger $23 million gift to the Foundation made by himself and his fellow chapter brother D. Bruce McMahan Southern Cal '57. The endowment commemorates Brother Marvin's legacy of leadership and financial support of the Fraternity and secures the long-term operation of Phi Psi's headquarters.
Hank resided in Lancaster, CA and is survived by his wife Trudy and children Tamera (Alpha Delta Pi), Henry Jr. (Tau Kappa Epsilon) and Tanya (Delta Delta Delta).
Bob Marchesani IUP '79 (Butler '94), President of the Phi Kappa Psi Fraternity, has declared a thirty-day period of mourning in memory and thanksgiving for the life of Brother Marvin. All Phi Psi Brothers are encouraged to wear their badge draped with a black ribbon or band during the thirty-day mourning period.
###
Services in honor and memory of Hank will be held on Tuesday, August 15th at 11:00 a.m. at The Highlands Church at 39625 20th St. West in Palmdale, CA with a lunch to follow at the Antelope Valley Country Club. For those who are unable to attend the service in person, the service will be live-streamed on Facebook.
Contributions in Hank's honor and memory may be made to the Marvin Laurel Hall Operating Endowment or the Phi Psi Fund by mailing checks to the Phi Psi Foundation at 5395 Emerson Way, Indianapolis, IN 46226 and indicating the designation in the memo or giving online at pkpfoundation.org/remembering-hank-marvin/.
About the Phi Kappa Psi Fraternity & Foundation
The Phi Kappa Psi Fraternity is an association of men of integrity who strive to develop the individual in his intellect, involvement in the community and faith. The Fraternity was founded on February 19, 1852, at Jefferson College by William Henry Letterman and Charles Page Thomas Moore. The Fraternity currently has 95 chapters and colonies across the United States with 5,500 undergraduate members and 95,000 living alumni.
The Phi Kappa Psi Foundation (d/b/a Phi Psi Foundation; Endowment Fund of the Phi Kappa Psi Fraternity) was formed to aid, encourage, promote, and contribute to the education and scholastic attainments of Phi Psis and other students across the nation. The Foundation, organized in 1914, is a 501(c)(3) nonprofit, public educational foundation whose primary mission is to assist college students in meeting their educational objectives through scholarships, grants, fellowships, and assistantships, while promoting learning, high ethical standards and constructive citizenship.
Ryan Parker, Senior Director of Communications
ryan.parker@pkpfoundation.org
5395 Emerson Way, Indianapolis, IN 46226
(317) 275-3400