Phi Kappa Psi Mourns the Loss of Jerry Nelson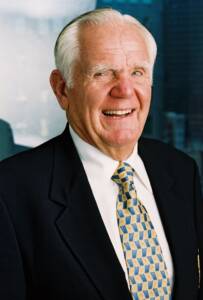 INDIANAPOLIS, IN — July 19, 2023 — It is with great sadness that we inform you of the passing of Jerry Nelson UCLA '48, Foundation Trustee. Jerry passed peacefully on July 17, 2023, at the age of 94. Brother Nelson was initiated into the Cal Epsilon Chapter of Phi Kappa Psi on March 21, 1948, joined the Phi Psi Foundation's Board of Trustees in 1989, and was inducted into the Order of the S.C. in 1998.
Jerry was a giant both inside and outside the Fraternity. He was a visionary businessman, an almost unparalleled philanthropist, and a mentor to more than he would ever have known. He was a friend to brothers old and young, and a brother who embodied The Great Joy of Serving Others perhaps more than any Phi Psi ever has.
In Phi Psi circles, Jerry was a man that needed no introduction. He made it his mission to improve the lives of our undergraduate men.
"My life is richer because of my friendship with Jerry. He believed in the transformative power of the Fraternity experience. I have never known a man who inspired others so effectively and so consistently as Jerry did. His loss is softened only by the magnitude of his impact and the legacy he has left in the thousands he touched throughout his amazing life. Phi Psi has lost a giant," shared Donald Fites Valparaiso '53, Foundation Trustee.
A man from modest means with an adventurous spirit, he founded Pinnacle Peak Land Company and Pinnacle Paradise, Inc. of Scottsdale, Arizona and was responsible for the development of 9,000 North Scottsdale acres, 8,000 homesites, and some of the world's best golf destinations. In partnership with his late wife, Florence Ely Nelson, the couple established environmentally friendly building codes that preserved Scottsdale's Sonoran Desert landscape. They then advanced their vision for Scottsdale by educating 6,000 children annually through their Desert Center programs. Through these entities and affiliates, he developed Pinnacle Peak Village, Pinnacle Peak Country Club and Shopping Plaza, Troon Village and Troon Golf & Country Club, Troon North and Troon North golf course. Other developments have also occurred in Scottsdale and Prescott, Arizona and Cabo San Lucas, BCS, Mexico. Throughout his life, Jerry funded the creation and startup of numerous companies including Simulnet, Video Electronics, Ticketmaster, Antenna Technology Corporation, Technology Control Services and Troon Golf Management.
Jerry led the charge to grow the Phi Psi Foundation and expand the Board to what it is today. He singlehandedly drove the establishment of many of Phi Psi's most well-known programs and initiatives.  He was the catalyst behind the now robust Chapter Scholarship Program, promoted the Foundation as the "community foundation" for Phi Psi's almost 100 chapters, and was a leader in the promotion of grants and reserves for safe and competitive chapter housing. He founded the American Leadership Academy (ALA), a program designed to guide Phi Psi leaders of tomorrow. During the creation of the ALA, he truly displayed a heart to serve as he opened his home and resources to educate and invest in the future of our undergraduate brothers.
Many years later, the Nelson Leadership Institute was established to carry on the mission of impacting young Phi Psis through leadership and character development programming. The Institute carries Jerry's name as a reminder of his catalytic and entrepreneurial spirit which has well served thousands of young Phi Psis.
"I was fortunate to travel throughout the country with Jerry for more than two decades speaking and connecting with the next generation of leaders. It is rare to be in the company of someone so accomplished, yet so humble, who consciously strives to make the lives of those around him better. The number of individual minds that Jerry influenced in his lifetime is unheard of. He was a mentor to me and to those he never met. When he said 'if it is to be, it is up to me' to a room full of young men, he was leaving a simple yet sage lesson in their hearts. He taught others to have a plan, take initiative, and do good work," said Paul Wineman Washington '55, Past National President and Foundation Trustee.
At the 2000 Grand Arch Council, Phi Kappa Psi recognized Jerry's outstanding achievement as a volunteer and philanthropist with the National Leadership Award. In 2004, Jerry was selected by the North-American Interfraternity Conference Foundation as Philanthropist of the Year. The NICF, now known as the Foundation for Fraternal Excellence, represents the educational foundations of over 60 men's and women's fraternal groups. As part of Jerry's 80th birthday celebration in 2009, a scholarship was established – the Jerry Nelson Award. Given annually, the award recognizes an undergraduate or graduate Phi Psi who demonstrates high moral standards, positively influences those around him, and displays an entrepreneurial spirit.
Jerry's legacy will live on in the hearts and minds of so many. His infectious smile and wit are already living through others who embody Jerry's spirit. In addition to his many intangible qualities, Jerry left resources that will allow his impact to continue into the future. With a $33-million life insurance gift to the Phi Psi Foundation, he leaves funding for the Nelson Leadership Institute, the Chapter Scholarship program, educational housing support, and has established an operating endowment.
With his own youthful passion, Jerry Nelson has accomplished more than most people could in half a dozen lifetimes. He's an example of what core values, as expressed in Phi Psi's Creed, such as honesty, trust and being a man of your word, can achieve. Sharing his wealth not only monetarily, but also fostering a level of personal standards and business ethics that would benefit an individual, a businessperson and even help improve a country, Jerry Nelson is proof that selflessness and philanthropy are alive and well.
Jerry resided in Scottsdale, Arizona. He is survived by his three sons Nic (Kathryn), Tom Sigma Chi (Berry) and J.P. UCLA '93 (Julie) as well as his grandsons Nathaniel, Armando, Steele, Nicolas, Alexander and Jonathan and granddaughters Mia, Ella, Joy and Lexi.
Bob Marchesani IUP '79 (Butler '94), President of the Phi Kappa Psi Fraternity, has declared a thirty-day period of mourning in memory and thanksgiving for the life of Brother Nelson. All Phi Psi Brothers are encouraged to wear their badge draped with a black ribbon or band during the 30-day mourning period that has been declared in thanksgiving of the life of Brother Nelson.
###
Contributions in Jerry's honor and memory may be made to the Nelson Leadership Institute and/or the Jerry Nelson Scholarship Fund by mailing checks to the Phi Psi Foundation at 5395 Emerson Way, Indianapolis, IN 46226 and indicating the designation in the memo or giving online at pkpfoundation.org/remembering-jerry-nelson/.

About the Jerry Nelson Award
The Jerry Nelson Award was established in 2009 in honor of Jerry's 80th birthday. The scholarship is annually awarded to an undergraduate or graduate student demonstrating high moral standards and committed to positively influencing his chapter, campus, and community. A minimum GPA of 2.5 is required to apply, but the applicant's entrepreneurial spirit within Phi Psi, his personal life or a professional setting is most important.
About the Fraternity, Foundation and Nelson Leadership Institute
The Phi Kappa Psi Fraternity is an association of men of integrity who strive to develop the individual in his intellect, involvement in the community and faith. The Fraternity was founded on February 19, 1852, at Jefferson College by William Henry Letterman and Charles Page Thomas Moore. The Fraternity currently has 95 chapters and colonies across the United States with 5,500 undergraduate members and 95,000 living alumni.
The Phi Kappa Psi Foundation (d/b/a Phi Psi Foundation; Endowment Fund of the Phi Kappa Psi Fraternity) was formed to aid, encourage, promote, and contribute to the education and scholastic attainments of Phi Psis and other students across the nation. The Foundation, organized in 1914, is a 501(c)(3) nonprofit, public educational foundation whose primary mission is to assist college students in meeting their educational objectives through scholarships, grants, fellowships, and assistantships, while promoting learning, high ethical standards and constructive citizenship.
The Nelson Leadership Institute is the programming and training arm of Phi Kappa Psi. The Institute was established in 2016 and named in honor of Brother Jerry Nelson UCLA '48. Whether it be through personal development, undergraduate leadership, professional competency, career connections, or just learning what it takes to find happiness and lead a healthy life, the Institute and its programming sets Phi Kappa Psi apart from other fraternities and on-campus learning opportunities.
Ryan Parker, Senior Director of Communications
ryan.parker@pkpfoundation.org
5395 Emerson Way, Indianapolis, IN 46226
(317) 275-3400