Phi Kappa Psi Mourns the Loss of George Humphries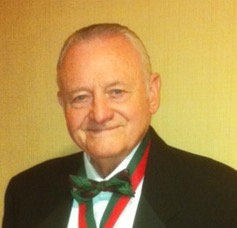 It is with great sadness Phi Kappa Psi announces the passing of George E. Humphries Oregon '50. Brother Humphries entered Chapter Eternal on July 4, 2023.
Brother Humphries attended his first Grand Arch Council in San Francisco, California in 1956. The 1956 GAC would be the first of 23 that he would attend throughout his lifetime. Brother Humphries joined the Order of the S.C. in 1978 and was elected to serve as the National Vice-President of Phi Kappa Psi from 1982-84. He went on to serve as the 49th National President of Phi Kappa Psi from 1984-86. 
Bob Marchesani, President of the Phi Kappa Psi Fraternity, has declared a thirty-day period of mourning in memory and gratitude for the life of Humphries. Brothers should shroud their badges and chapter shields in mourning as outlined in Rituals and Ceremonies of the Phi Kappa Psi Fraternity, effective July 5, 2023 through August 4, 2023. "I join with all Brothers in mourning the passing of Brother Humphries," says Marchesani. "I had the good fortune of serving with George on the Executive Council when he served as vice president, and I was serving as Archon. George will certainly be on the hearts and minds of Brothers gathering in Eugene, Oregon in August for the rechartering of his beloved Oregon Alpha chapter."