Phi Kappa Psi goes all out for Movember
The Fraternity surpasses their fundraising goal of $24,000 for the fourth year of Movember participation

After another year of Movember participation in the books, we are thrilled to see how our undergraduate members are joining the fight to stop premature male death. Since the launch of our partnership with the Movember Foundation in 2015, Phi Kappa Psi Fraternity has raised a grand total of $74,318 to go toward men's health research and awareness.  This past Movember, we set a goal of raising #24inYear4, and we are thrilled to report that we have surpassed our goal by raising a total of $25,242 for the Movember Foundation. We couldn't have done this without our chapters, who impress us every year by not only raising money, but by being passionate about improving men's health by taking care of themselves and showing support for their peers, family and friends.
"The Movember foundation is important to me because men's health diseases have affected many people in my own life, including my father, and to see a foundation that forwards their donations to research that will hopefully mitigate these diseases in the near future is incredible for those affected and for the medical community as a whole." – Keane Flynn (Cal Gamma)
Men die an average of 5 years earlier than women, this annual campaign focuses on how we can break down the walls of communication within men to put an end to the contributing factors of our premature life expectancy. Prostate cancer, testicular cancer, and mental illness & suicide are recognized as the leading contributors to this epidemic. Each week during Movember, chapters were given resources for these topics, and encouraged to talk about them with their brothers and with others on campus.
Though Movember deals with heavy subject matter, students enjoy many fun avenues for fundraising. From growing a moustache, to participating in a movement challenge with friends, and hosting a Movember event on campus, there is no wrong way to have a great Movember.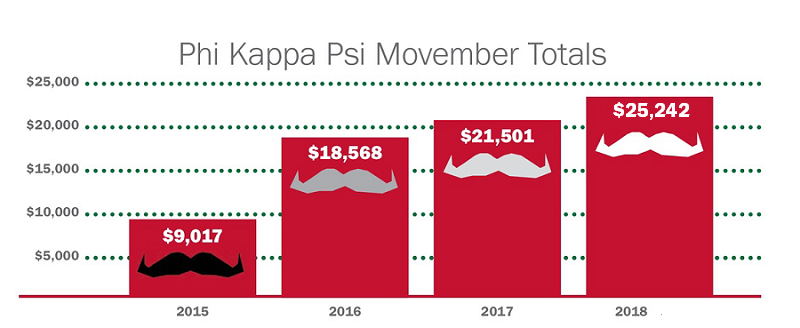 Movember Recap: Suicide Prevention, Mental Health 
Executive Council member recounts his powerful story
By Marc Dumas (DePaul '93), National Secretary
I almost did it. In 2009 I almost committed suicide.
It was something that was in my head for a lot of the end of 2008 and the beginning of 2009. I thought I was a failure in every aspect of my life. I had just lost an Executive Council election, I felt like an awful father, a lousy friend, and a horrible husband. So awful that my wife asked for a divorce.
She told me that things were not working and that she thought I was not trying. To top it all off, I had been fired from my job. Saying that I was depressed was an understatement. However, if you knew me then and talked to me, you might have known about the divorce. You might have known about the job loss, but you would never have guessed that I was depressed. Heck, I just kept a smile on my face and did what I could to make people have a good time around me. I was afraid if I told people about my troubles they wouldn't like me anymore or want to hang out with me. Really, in my heart of hearts, I thought I'd be much better off, and my children would also be much better, if I wasn't around.
So I made the decision to end my life. Problem: How was I going to do it?  After some thought and looking around my condo, I thought the best way was to hang myself off of a ceiling fan. Well, by the grace of God, I failed. Short version. The ceiling fan in your home isn't rated to hold 300-plus pounds. It fell down on me and hit me in the face with a blade. I'm still here. Holly found me under my desk crying in the fetal position, and we got through it. We still got divorced, I got some help, and I came out the other side.
When I made my Facebook post last month to coincide with Movember, I was asked to talk about it a little more. Why did I decide to share my story? What sort of help was available? What do I do now to take care of myself? These were all questions worth answering – especially if it helps someone else who may be struggling.
When I got elected to the Executive Council in July at the Grand Arch Council in Las Vegas, I realized that I had an obligation to my brothers to help them any way I can. We all know brothers that don't share their feelings for whatever reason. I hope that by seeing me talk about this valley in my life, it will let someone else know that its ok to talk about it. You have help out there. From folks on your campuses to your brothers, there are people out there who can listen and talk. Here are some additional resources:
The National Suicide Prevention Life is available 24/7 at 1-800-273-8255 (1-800-273-TALK). The Lifeline provides free and confidential support for people in distress, prevention and crisis resources for you or your loved ones, and best practices for professionals. Lifeline Chat is also available on their website.

If you are concerned someone's life is in danger, call 911 or go directly to emergency services.

The Crisis Text Line is available 24/7 by texting HOME to 741-741. Crisis Text Line serves anyone in any type of crisis by providing access to free, support and information via a medium that people already use and trust: Text.
The Movember Foundation has built A Man Of More Words campaign around the importance of talking and reaching out for help. They have resources and conversation guides for someone who is struggling and someone wanting to offer help. Those include:
ELEVATE is Phi Kappa Psi's health and wellness initiative. Through connection to resources – both local and national, in-person education, online content, awareness campaigns and ongoing support, the Fraternity seeks to provide members knowledge and skills to identify and address concerns facing today's college man.

Behind Happy Faces is the Fraternity's newest in-person program that   gives students the tools they need to address mental health effectively by providing a more complete education of mental health, understanding of brain development, teaching participants about coping mechanisms, and showing the important steps to help a friend in crisis.
ELEVATE the Conversation was created to provide undergraduate brothers the opportunity to facilitate chapter conversations about health and wellness-focused content. There are several workshops available on mental health.
Each September, the Fraternity recognizes National Suicide Prevention Week. While this is one week, there is a toolkit available with education that can be used year-round.

Training is available on-campus or in your community around mental health concerns and how you can help. Mental Health First Aid teaches you how to identify, understand and respond to signs of mental illnesses and substance use disorders in your community. QPR is a training around a three-step process to prevent suicide.
Campus counseling centers offer support for your mental health. This could be through screening programs, individual therapy, and/or group sessions.
Campus health centers offer medical services and educational programs. Many health centers run, thanks to student fees, and you can obtain services at free or reduced rates. There may also be options for testing, immunizations, wellness programs, or pharmacy services.
I have to work at the things that I want to do well. That means working at being a good Dad, partner, teammate and brother. I strive to take a moment every day and see all of the things that I'm grateful for. If nothing else, I hope that my story helps one person see that others have gone through it and are here to help you. As always, I'm proud to be a Phi Psi, and I am here for you.
Men: Have a Health Problem?
Ben's Story: Surviving Testicular Cancer
Heads Up Guys: Surviving Depression & Suicide