The Shield
The Shield is the official magazine of Phi Kappa Psi. The magazine is published in print and digitally throughout the year and is one of several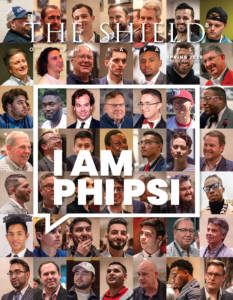 ways for alumni to stay in touch with the Fraternity, keep up with the local chapters and associations, and learn about the amazing work Phi Psis are doing around the world.
Alumni and undergraduates are encouraged to submit content for consideration to shield@phikappapsi.com. Whenever possible, issues will feature chapter-specific content to share what undergraduate chapters are up to.
Read the latest issue of The Shield on your desktop or mobile/tablet today.
2019 issues of The Shield are available online here:
Miss a copy? You can also read every issue of the magazine dating back to its creation in 1879 via the searchable Shield Archive.